"Materva" has become a symbol of Cuban diaspora and nostalgia of pre-Castro Cuba, "Club Mate" is the preferred and signature drink of most post-Fordist alternative engineering cultures (a.k.a hackers), and "Nativa" became a known Coca-Cola market flop in Argentina. What unites those three drinks is the idea of carbonating the famous mate tea into energizing soda pops, or gasiosas de mate.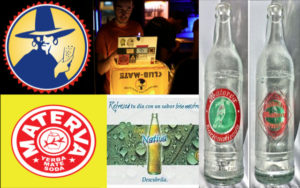 This project by Rosen Ivanov comes from his passion for ilex paraguariensis, or yerba mate, and its fascinating social history and traditional uses. After working on a soda-pop from yerba mate in the local Barcelona biohackerspace, Rosen decided to try various methods of natural carbonation for brewing traditional tea fizzy drinks.
On the first days of the camp, he invites you to experiment with him on different ways of using fermentation's CO2 for making sodas-pops. He's intending to try the following cultures, but any other methods we can work with are highly appreciated: ginger bug, whey, water kefir and kombucha.