What will you read about on this year's PIFlog? After the introductory presentations, we can predict that you will once again enhance your knowledge about live coding, witness the return of fermentation and foraging enthusiasts and immerse yourself in the surroundings of the village of Soča with all your senses. Once again, synths, lasers and all sorts of robots will abound. The worksite is ready, let's get to work!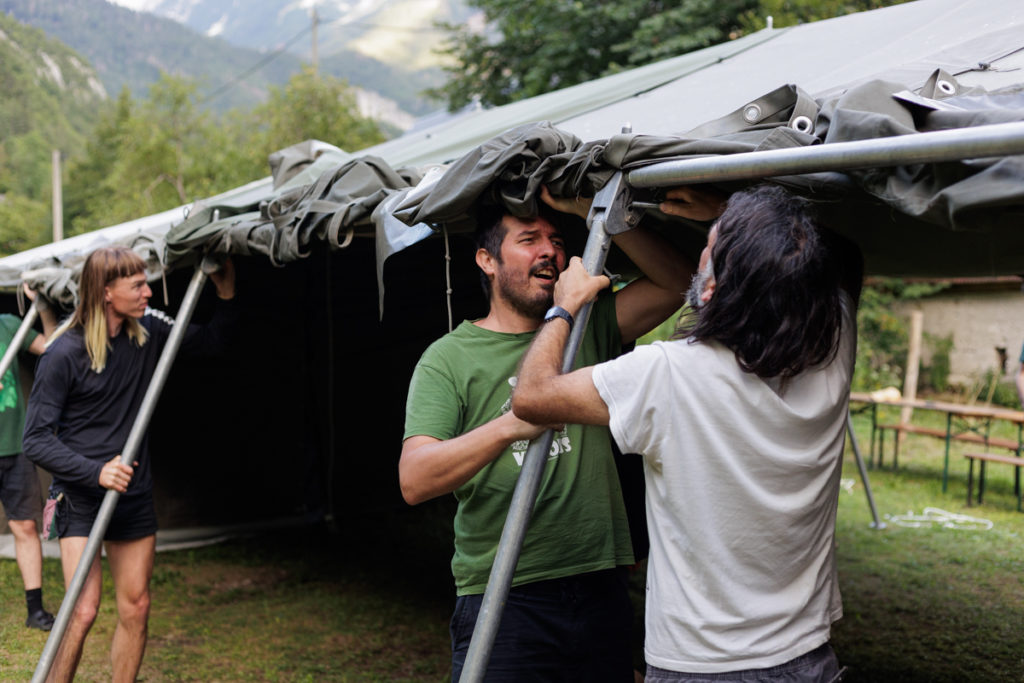 Along with many of the live coders you've already met on this blog, this year's participants also feature a few newcomers. Laurent Malys is attending PIFcamp for the first time this year, and this week he will continue working on his performance Body to Code, which combines dance and live coding. Ironic and impractical, his transhumanist performance showcases the creativity of algorithmic electronic music while questioning the interconnections between humans and machines.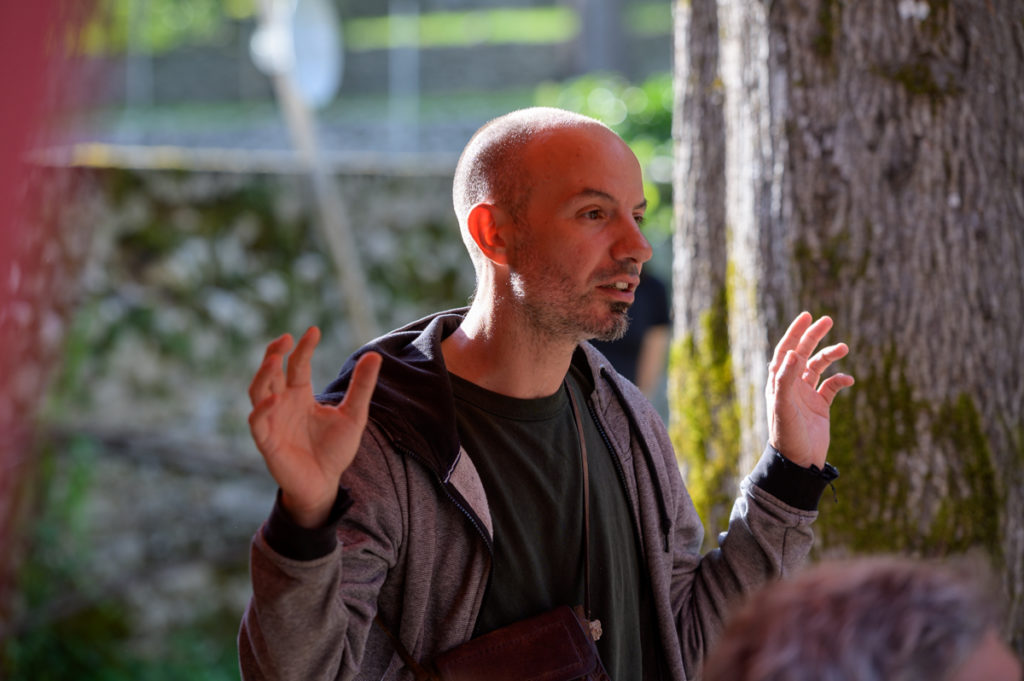 Laurent during his PIFproject presentation. Photo: Katja Goljat
Niklas Reppel, one of the PIFcamp returnees and members of the Toplap Barcelona collective, often combines live coding with field recordings in his practice. This year, he will populate the surroundings of PIFcamp with various objects on which he is placing binaural microphones (in the shape of human ears) to explore how the world around us sounds from a non-human perspective. The project is dedicated to the memory of composer and sound artist Alvin Lucier.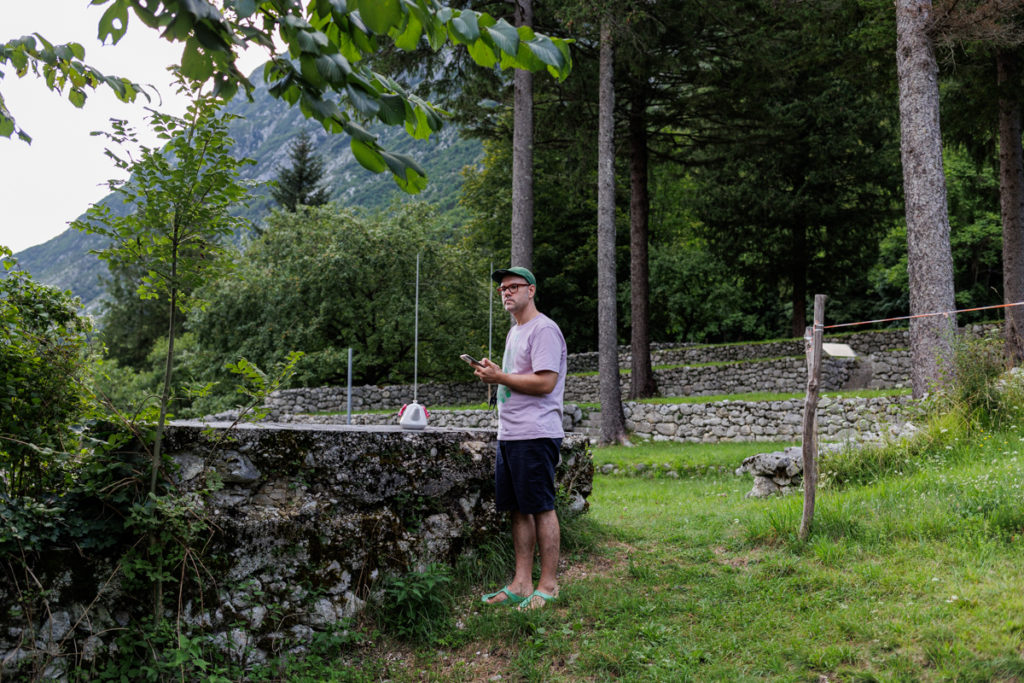 Blaž Pavlica, an old PIFcamp familiar, is back with his DIY sound dome project, which he has upgraded in every way this year – in addition to a brand new lightweight structure that makes assembly easier, the immersive sound dome now includes a 16-speaker system, with a canopy floating above it to protect it from the rain. The dome soundscape will be co-created by a number of PIFlars, and we'll make sure to report on their projects in the coming days.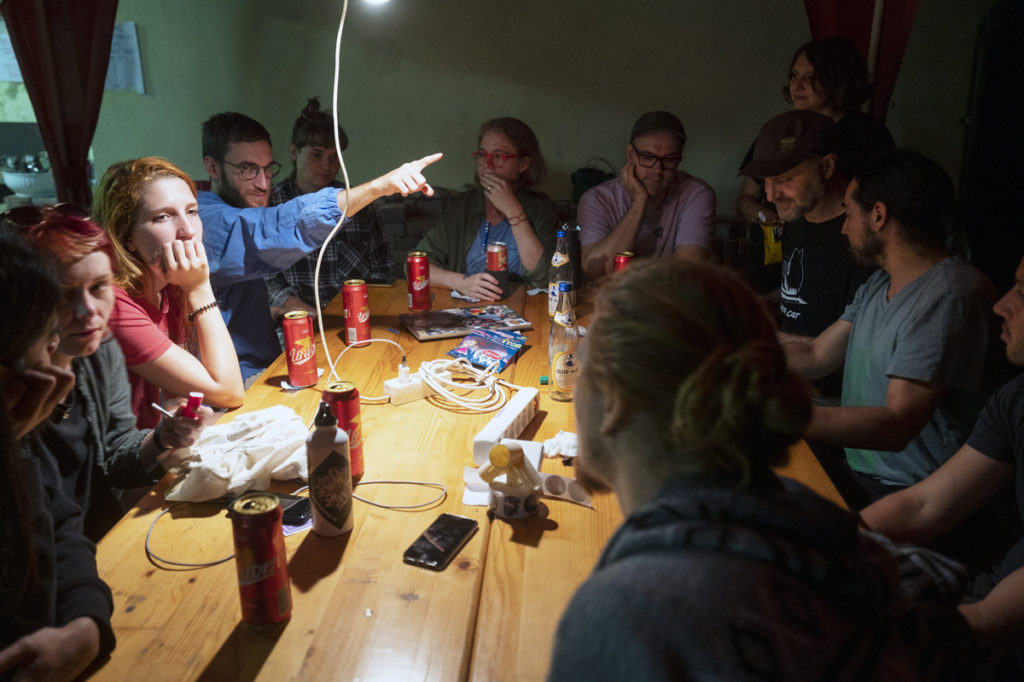 Dome projects planning with Blaž, its navigator. Photo: Katja Goljat
In addition to the writers of your favourite PIFlog, reporters for Makery and other documentarists are present at PIFcamp grounds. Live coder and illustrator Roger Pibernat, who was one of the more active participants last year, will be creating a visual diary for the aforementioned portal at this year's PIFcamp. We can't wait to see the results!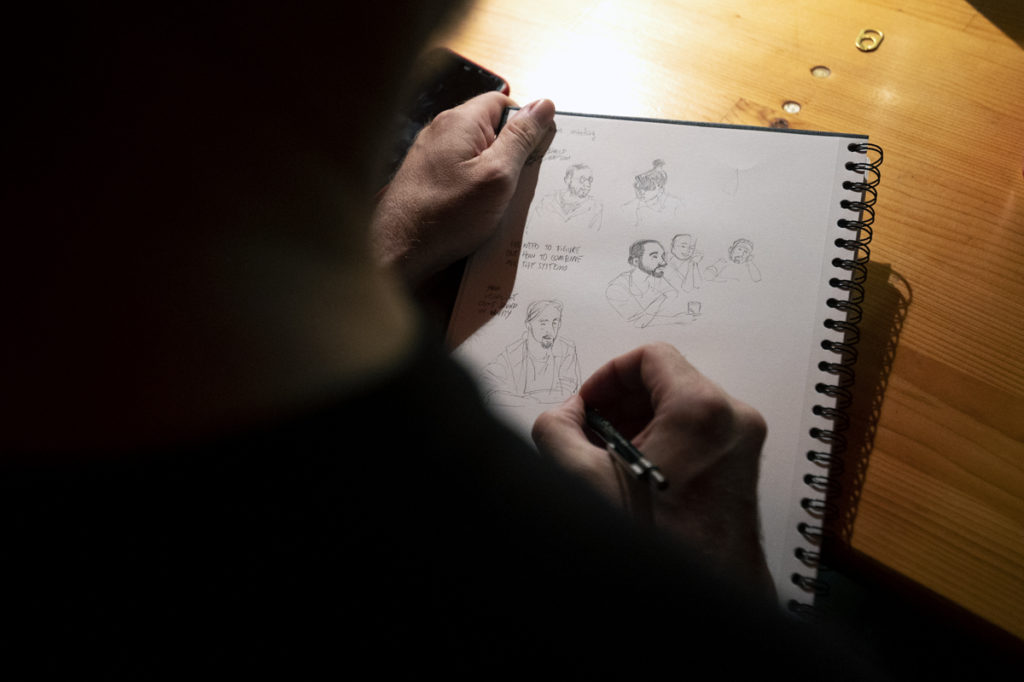 A sneak peak into Roger's sketchbook. Photo: Katja Goljat
We end this introductory roundup of some of the projects with one of our favourite recurring PIFprojects – for the fifth year in a row, Klemen Košir has been researching ways to feed more than 60 hungry PIFlars. So far, it looks like he's going to succeed yet again. Tomorrow we will report on the first workshops and the progress of the remaining projects, so stay tuned!